Things Chanel likes.
Not to horrify you or anything, but this is what a hydrothermal worm looks like under an electron microscope!

Don't worry. It lives in the ocean.

via FEI
REASON #81236217346234 WHY I DON'T DO LAKES OR OCEANS.
16 July 2011 at 10:14 pm
tagged with: scary ocean worm
912 notes
Angler Raphael Biagini bagged this massive 30lb goldfish — actually, an orange koi carp if you want to get all technical — while on a fishing trip in France.
Well! I know what I'm dreaming about tonight.
(via yerawizardharry)
9 September 2010 at 9:34 pm
tagged with: fish scary water image
17,647 notes
The ugliest sea creatures
I don't know why i clicked this link. I must hate myself.
18 April 2010 at 2:14 pm
tagged with: water fish link scary

(via mzannjamae)

I just vomited in my mouth a little.
Behold, the greatest justification for my non-participation in any activity that takes place in the water.
13 April 2010 at 2:22 am
tagged with: scary whales water photo lol
1,915 notes
Pacu, the fish with creepy humanesque teeth

(via piratekitten)
OH MY FREAKING OH LORD HAVE MERCY I THINK I AM GOING TO DIE.  THE TEETH! THE TEETH! THEY'RE EVERYWHERE IN HIS MOUTH LIKE SOME SORT OF MOLD OR DISEASE OR SOMETHING.. =\ =| =( ='( !!!
Kaiti, WHY! WHY!
EUUUUGH.
16 February 2010 at 11:32 pm
tagged with: disgusting fish scary disturbing
51 notes
These ain't ya mama's Disney princes!
OH SWEET BABY MOSES.
18 October 2009 at 11:17 pm
tagged with: scary link disney nearly naked men
1 note
Kaiti and I went to the beach yesterday before meeting up with Malloreigh and Lindsay for dinner / wine / Brasstronaut show and when we saw all the tourists hangin' around these we decided to play tourist as well.
MERISSA LEE DABORN WHAT ARE YOU HANDS DOING ON THOSE METALLIC MALE BOTTOMS.
2 October 2009 at 10:32 pm
tagged with: men scary photo merissa lee daborn lol
2 notes
9gag:
interesting thing
UGH.
12 September 2009 at 5:13 pm
tagged with: fish water scary
174 notes
The curious case of the Tupac poster
Very rarely do I ever come across posters I would put up in my room. When I walked into Poster World the other day and saw this one, the first thing that came to my mind was, "I want this."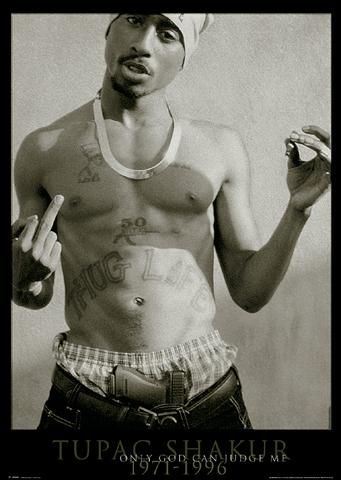 I'm not a fan of tupac. I've never listed to his music. I know who he is and that he was gunned down the las vegas strip after fight night, but that's about it.
Here's why I love this poster.
1. He's giving the middle finger.
The middle finger thing is a little inside joke between me and my family. It doesn't hold the same venom it might for other people; I frequently flip my family off and they always laugh because my middle finger is crooked. So, this little gesture is close to my heart in a strange, twisted, oddly amusing way.
2. He's shirtless.
Anyone who knows me knows there are two things that will always freak me out: photos of nearly naked guys and fish. Yet, somehow, his shirtlessness does not disturb me. This is probably because he is not giving me the ever-seductive (feel my sarcasm) abercrombie "come hither" look with his eyes. Regardless, in the same way I continue to post photos of fish on this tumblr and somehow still open links Kaiti sends me that contain various degrees of unmentionable disburbidness, I want to hang a gigantic poster of this nearly naked guy on my wall.
4. You can see his underwear.
I hate when guys do this.
5. He has a gun tucked in his pants.
SO BADASS.
3. He has "THUG LIFE" written on his stomach.
There is something so deliciously ironic about an antitype of "thug life" wanting a poster of a guy with a tatto that says "THUG LIFE" across his midsection.
4. He's smoking.
Non-smoking girl wanting a poster of a guy smoking! Irony!
5. He's shirtless, has a tattoo that says "THUG LIFE", is smoking, has a gun tucked into his underpants and is giving the middle finger, all in the same photo.
So many degrees of awesome, ridiculous, gangster badass going on, I can't even take it.
Only question left is… who's going to get this for me for my birthday?
11 September 2009 at 10:31 pm
tagged with: tupac list gangsta badass reasons nearly naked men scary
2 notes
Check out this totally cool louse. It eats the tongue of the red snapper by draining blood from the tongue via the gills. Then, when that's all gone, it replaces the tongue and the snapper can actually use the louse as a surrogate tongue. The two live symbiotically, forever and ever and ever and ever.

I SRSLY CAN'T BELIEVE I'M REBLOGGING THIS BUT WHAAAATTTTHHEEEEFUCKKKKK.
OH MY F—WTF IS THIS DOING ON MY DASHBOARD OH MY EFFING GS THIS IS THE MOST DISGUSTING THING EVER OH GOD WTF IS THAT IT LOOKS BLIND AND OMG EW LOOKS LIKE A MAGGOT WORM THING WITH LEGS AND OH MY EFFING PETER RABBIT THAT IS THE ONLY THING WORSE THAN FISH THEMSELVES.
/ hyperventilate.
10 September 2009 at 10:35 pm
tagged with: fish scary nastyass louse worms maggots photo the daily punishment
222 notes